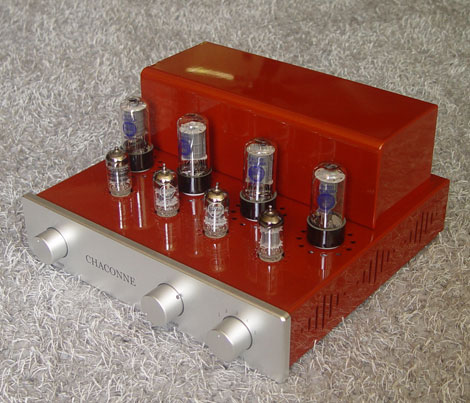 CHACONNE Pinot Noir-Integrated Amplifier

CHACONNE Pinot Noir-Integrated Amplifier
We understand, you love music and you've just experienced a tubed audio system… and you're in love. The richness, the closeness, the musicality of tube components is totally captivating. But how do you buy into the tubular lifestyle without breaking the bank? To begin you'll need speakers somewhere between 90 and 98dB efficient plus your favorite source components and… a CHACONNE Pinot Noir, The 8wpc, CHACONNE Black, Grey, Blue, Chalecole Grey, Orange Color selectable.
Features and Specifications
Output: 8wpc
Frequency response: 20Hz ~ 20kHz
Speaker terminals: 6 ohm
Inputs: 3 single-ended and a 3.5 input
Recommended speaker sensitivity: 90dB - 98dB
Dimensions: W 15.5" x D 14" x H 6.5"
Weight: 35lbs
Tube Complement
2 x 12AT7 - Preamplifier stage
2 x 12AU7 - Phase inverter/driver
4 x 6V6 - Power tubes
Ultra Linear connection
Photo Gallery