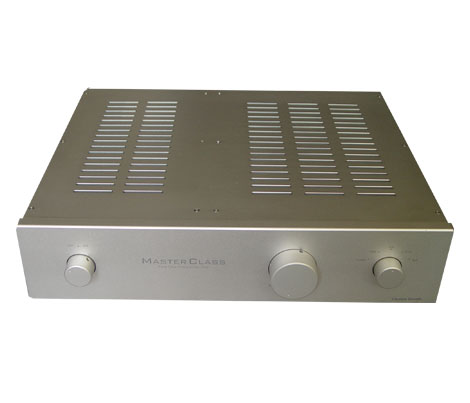 MASTER CLASS Preamplifier

MASTER CLASS Preamplifier
The heart of all separate-component systems is the preamplifier. Aurora Audio engineers all of our preamplifiers so that they will perfectly match all our tube stereo and monoblock amplifiers as well as a variety of other company's amplifiers and components as well. Our preamplifiers are designed to the same exacting standards as the rest of the line and deliver vivid, immersive and musical sound. The chassis of the six-tube MASTER CLASS preamplifier is machined-from-solid-billet makes its chassis dead-solid and highly protective of the historic preamplifier and rectifier tubes inside.
The fact that the chassis is so thick and protective really helps it maintain a dead silent and black background able to mesmerize its owner due to all of the highest components used in its circuitry. In a way this design is probably the best for a preamplifier keeping its glass tubes away from airborne vibrations and inductive currents and sonic frequencies inherent in a room full of great music and high end audio gear. Some of the best tube preamplifiers on the planet are built into steel chassis not unlike this one. But ours is usually much thicker and heavier in comparison to most of those. This does indeed have an effect on its final sonic abilities.
We really cannot say much else other than we are one of the best out there, and we guarantee that statement. Take the MASTER CLASS Preamplifier home and compare it against anything close to its price point, and above - even far above, and we guarantee it will better them all or your money back. Its that simple!
It's all hand-wired point-to-point with silver-plated PTFE-coated conductors, three types of solder with a pure-copper buss bar. The MASTER CLASS features an ALPS 20k ohm motorized volume control that you can upgrade to a Tokyo Ko-on attenuator on request. The preamplifier is tube-rectified with tube controlled power supply.
Besides sounding wonderful, Aurora Audio products have a sumptuous look and feel.
Features and Specifications
Input terminals: 1/pr balanced XLR, 4/pr single-ended RCA
Output impedance line stage: < 200 ohms
Dimensions: W 19.4" x D 11.5" x H 5"
Weight: 35lbs
Tube Complement
1 x 5Y3 - Rectifies
1 x 6SN7 - Volatge Conroller
1 x 6B4G - Volatge Regulator
2 x 12AT7 - First stage amplifier
1 x 6DJ8/6922/PCC88 - Preamp output stage cathode follower
Photo Gallery